DevSoft DocMaster Proposal Software
• Proposal Activity Tracking
• Bid Tracking and Listing
• MS Outlook Integration
• Document Template Design
• Offer Cover Letter and Condition Creation
• Opportunity to Use Product Cards within Offer Usage
• Creation and Storage of Bid-Related Files
• Creating a Product Set
• Output in Pdf, Word, Excel and Jpg formats
• Bid Analysis
• Listing in Different Colors According to Offer Status
• Company and Product Tracking
• Internet Supported Currency Management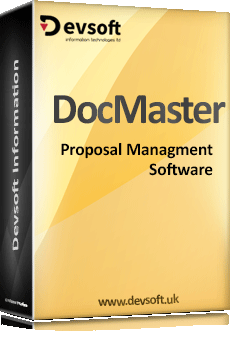 DevSoft DocMaster Proposal Software
It is a software product that details the communication between the buyer and the seller in product/goods purchase and sale transactions and presents offers in computer environment.
With the Doc Master Software, processes such as tracking the works, keeping them under record, and evaluating the proposals are carried out through a single program.
With this software, which allows you to share all kinds of information and document breakdowns with your customers during the proposal stages, you can achieve a quality position in your working life. You can get rid of file pollution and follow the whole process through a single program.